Testimonials
Choosing an assisted living facility is one of the most important decisions you'll make as you, your parent, or your loved one ages. At Carriage Hill Assisted Living, it's our passion to provide a home for you and your loved ones. Our New Hampshire assisted living facility is family-owned, and intentionally small in order to provide individualized care and attention to each resident. The relationships that we cultivate with our residents continue to be a source of inspiration and fulfillment for us. On your journey to finding assisted living in NH, reviews and testimonials from seniors and their families are an invaluable resource. We welcome you to take a look at what some of our residents and their families have shared about their experiences at Carriage Hill.
---
The Right Place for My Family Member

A Vietnam Vet, my brother developed Parkinson's Disease so slowly that neither he nor I knew what it was for years and it went undiagnosed by his medical community. When it came to the point where it was no longer safe for him to live alone, we discovered Carriage Hill, just two miles away. A large home-like atmosphere with private rooms and large living and gathering rooms for activities and visiting, Carriage Hill, with 24 residents was ideal for him. The staff was caring, patient, and helpful with his needs as his health declined. They accepted his growing confusion and mild dementia from the disease with understanding and compassion and adjusted his daily needs accordingly and appropriately. The nurses and staff were in communication with me regularly about him. Attuned to his changing needs, they were able to bring in the hospice level of care he needed when it was time so he did not have to relocate! I am so thankful for the love and care they gave to Bob at the end of his life.

– Suzanne G.
---
We Highly Recommend Carriage Hill

Our mother fell while living on her own and fractured her hip. After a total hip replacement, and a stay at rehab, we knew it was time for her to move into an assisted living facility. We met with several facilities in our area, but after meeting with Sara, the owner of Carriage Hill, we knew it was the place for our mom. Sara was warm, comforting, and helped us navigate the unknown. All her qualities are part of the environment at CH Our mom lived at CH for 3 years and thrived. She was not only cared for, she was loved. We knew she was in good hands. She enjoyed the food, the activities, and the outings. Every aspect of the resident's safety was thoroughly implemented during COVID. The set up at CH is very homey making visits enjoyable for the families. In the end she passed away at CH in the care of hospice. The staff was compassionate and supportive during this time. We highly recommend Carriage Hill.

– Theresa K.
---
Resident Focused Care In All Areas

Carriage Hill fosters and exemplifies excellent Resident focused care in all aspects, including meals, nursing care, activities. Care is individualized for each resident. Families are encouraged to participate in events, etc. with their family member.

– Deborah D.
---
Small And Personable

My mother-in-law lived at Carriage Hill for more than 3 years. The staff were so good to her. From the administration to the nursing staff, from the aides to the kitchen staff -all were attentive to her individual needs. And they were also sensitive to the needs of the family. They made her feel welcome and part of the Carriage Hill family. They provided entertainment and a variety of activities appropriate for her age. They communicated with us all the way until her last breath. I would recommend Carriage Hill to anyone looking for a safe, compassionate "place for mom."

– Denise
---
Great Facility And Wonderful Care!

When our mother came to the realization that she could no longer live alone in our family home, it was important to us that we find a place for her to live that she would be well cared for and have a good quality of life. After meeting with [name removed], we chose Carriage Hill because we felt confident that the services they provided would meet all of Mom's needs and we were not disappointed! Mom loved the attention she received from the staff as well as her sunny room that was very well maintained. She enjoyed time at the puzzle table, loved the food especially the breakfast that [name removed] prepared "just for her" and was always a willing participant in the daily social activities and weekly van rides for lunch, ice cream and shopping. I highly recommend Carriage Hill and urge you to call Sara and schedule a tour today!

– Rhenda D.
---
The Personal Touch Of "Family" Oriented Care

When my mother entered her 90's, and needed assisted living care, my family rushed to what was reputedly "the best" and one of the most expensive options available in our state. A demanding woman who led a sophisticated life of travel and entertaining, she could be a hand-full when she was in the mood. To our surprise, our first option for her care was not a good fit, lonely, corporate, and cold, we made the decision to move her to Carriage Hill in Madbury, NH. A smaller, and more personalized community, we were simply astounded to see she experienced more direct and warm social contact in her first 24 hours at Carriage Hill than she had experienced in a full year at the larger, "name brand" corporate facility. So if you are looking for a warm, loving, family-type atmosphere, combined with first class staff and care, where everyone is on a first name basis, put a tour of Carriage Hill on your list for your loved one. My family could not recommend them more highly.

– Erik W.
---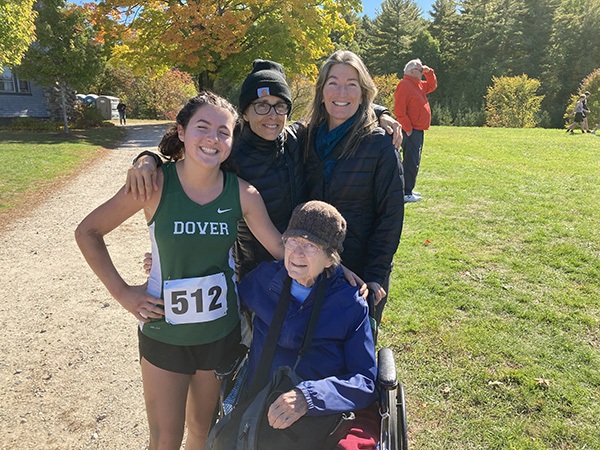 Hi Sara,

Finding a bit of time now to turn to that testimonial (inspired a bit by our afternoon with Mom)… Here it is: "Almost five months into calling Carriage Hill home and Mom's gratitude and ours has only grown. We feel so fortunate. In the 9 months before finding Carriage Hill, Mom went from living independently to a prolonged recovery and rehabilitation following a leg amputation. She transitioned from the hospital into two different rehabilitation placements and ultimately to a full-time nursing facility where concerns about her morale and functioning led us to have Mom try returning to her apartment with some additional caretaking support. But within just two months, she was requiring more and more independent living support and was feeling increasingly fearful about being alone. "From our first visit to Carriage Hill, our own fears about whether we could find a place that had the support Mom needed and one that felt like home to her were put to rest. The front door opens into warm surroundings that are more than matched by owner Sara Nadeau's welcoming and caring approach. Our first impression that Mom would be in really good hands with Sara and her dedicated staff has been completely reinforced by the reality of these last several months. "Mom has talked about feeling respected and well-cared for but she is not necessarily one to go so far as to say she feels loved. We see it and feel it, though. And we deeply appreciate that Sara and the staff are direct, transparent and 'can do' about finding solutions when there are bumps in the road. There are still lots of times when we wish we could turn back the clock and have the Mom who was always strong and independent and who did so much to care for us. But this new time in her life at Carriage Hill has her feeling loved and safe and as close to being at home as we could ever have imagined. "Sara, this may be wayyy too long to be useful and, certainly, our feelings won't be hurt at all if this –or some excerpted version –just doesn't seem to work into what you envision for this project. Use or don't as you see fit. With appreciation for all you and your team are doing to help Mom live the best life she can.

– Jim
---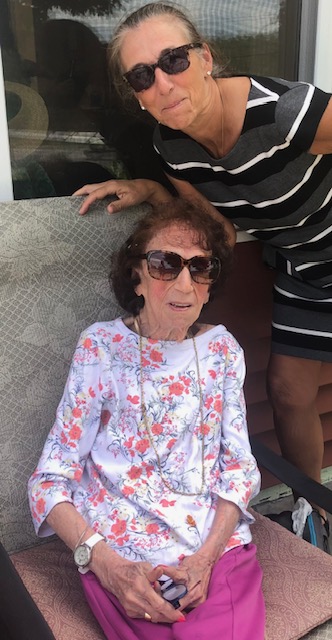 While nothing can replace your loved one's own home, Carriage Hill comes pretty close! When it became unsafe for our mom to live on her own, I looked at many, many facilities and interviewed many, many administrators and staff. Some facilities had beautiful chandeliers and wallpaper, others boasted of countless activities and outings, and a few spoke endlessly of their award-winning food. We chose Carriage Hill. When you walkthrough the doors of Carriage Hill, you will not only see that it is different, you will feel that it is different. It is small, tastefully decorated, and as warm and inviting as their resident-focused staff. In just a few days, the staff knew our mother. They became familiar with her likes and dislikes and helped her make the transition to assisted living life. They immediately involved mom in daily activities and weekly outings. Mom always looked forward to having her hair and nails done each week on site. Communication was great! The administrator does an excellent job providing regular facility updates to families and often announces details of special family events. She did an exceptional job communicating through the difficult COVID-19 pandemic. For all of it's hominess and attentiveness, it was really during my initial conversation with Administrator, Sara Nadeau, that I knew that Carriage Hill was going to be the right place for our mom. When I asked why she got into the assisted living facility business, Sara replied that she and her siblings wanted a better life for their grandfather-so they created one. I encourage you to consider Carriage Hill as you make this very difficult decision for you or your loved one. My family and I are so grateful that our mom was a resident at Carriage Hill.
---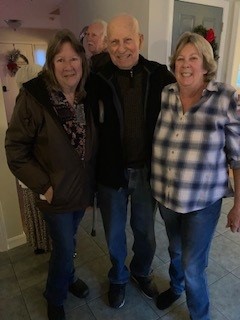 As soon as we walked in the door at Carriage Hill we knew this was the place for him. We had looked at a lot of places but this felt right for him. It was homey and cozy and felt like a family atmosphere and my Dad loved it. He was very happy there, from his private room and many activities they offer. His favorite was going on their transportation bus to get ice cream. He made many friends there and couldn't imagine himself being anywhere else. The staff was wonderful and the rent was very reasonable. Thank you for all you have done for my Dad.
---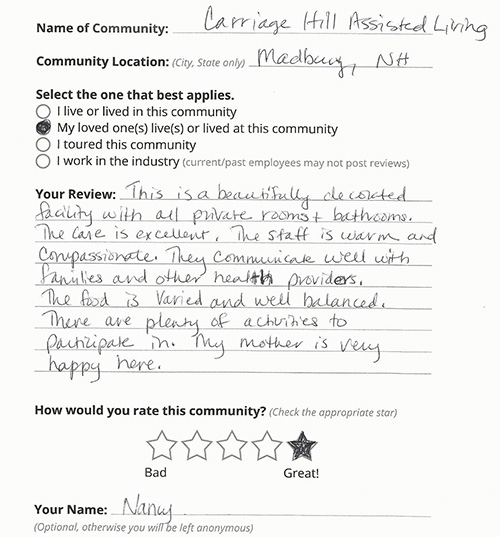 ---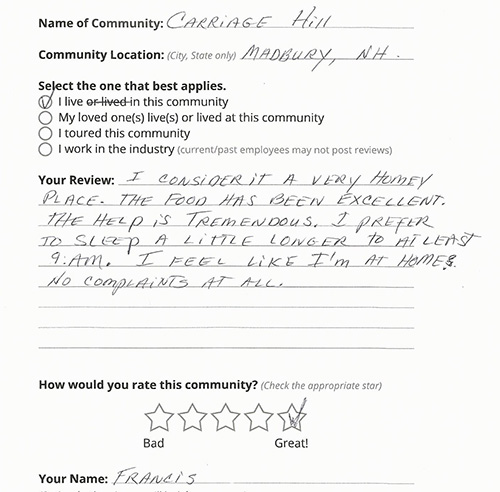 ---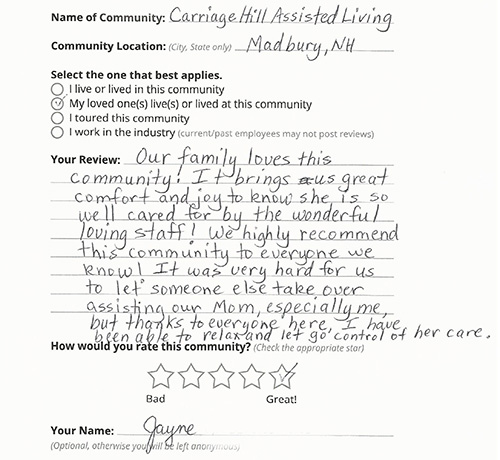 ---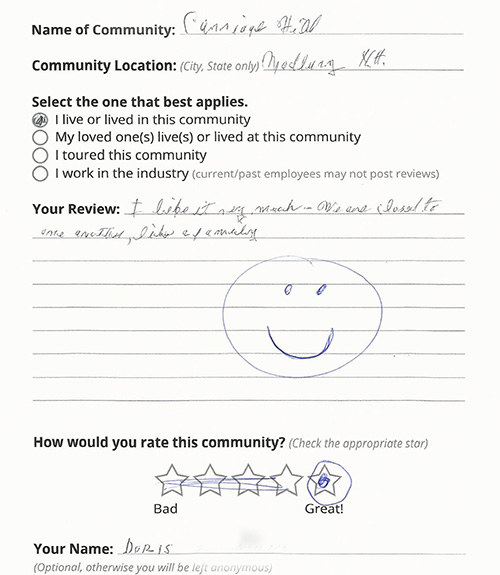 ---